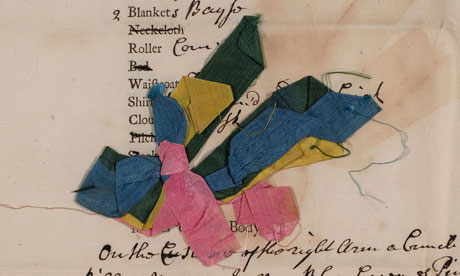 I've always been obsessed with British culture, tea, history, fashion, museums, you name it, but I only just became acquainted with the Foundling Museum in London. It's a fantasticly unique institution that houses the story of the first home for abandoned children, in addition to holding an impressive collection of art and period rooms.
A friend of mine told me about an online exhibition that the Foundling Museum did called Threads of Feeling. It's a gathering of 18th century cloth and textile fragments that mothers left as identifying markers for the young children they abandoned at the home. Threads of Feeling incorporates a beautiful slideshow of the handwritten notes and fabric scraps that were symbols of the last interactions between mother and child. These materials now make up one of the most comprehensive collections of fabric from this time period, because the cloths of lower class Londoners weren't typically preserved through the ages.
From a book artist's perspective, I'm fascinated by the combination of text and textile as image. The lists of mundane items left by the mothers is haunting, as are the handmade touches evident in the stitching and collaging of fabrics in these little works of art. Each of these artifacts tells a remarkable story of the past owner, and her personality as well as giving us clues about her life in 18th century London. Kathryn Hughes wrote a compelling article for The Guardian that further examines the history of Threads of Feeling.